Somta at Metalloobrabotka 2017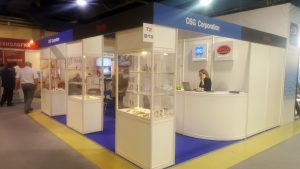 Somta Tools had the pleasure of sharing a booth with OSG Russia at the Metalloobrabotka Trade Show which was held in Moscow, Russia from the 15th to 19th May 2017. Present on the booth from Somta were Allan Conolly (Managing Director), Raj Reddy (International Sales Representative) and Vladimir Volokh (International Development Partner). From OSG Russia was Dmitri Demin , Bagrat Frangulyan, Inga Makar-Silaeva , Alexander Khromov.
This was Metalloobrabotka's 19th exhibition and had 981 exhibitors present from 32 countries and around 29 000 visitors from 53 countries over the period of its 5 days. Somta Tools was proud to be exhibiting in such a large arena, partnering with its esteemed colleagues from OSG Russia, especially since this was Somta's first ever exhibition in Russia.
There was tremendous interest from the public at the OSG / Somta stand (mainly from suppliers of cutting tools throughout Russia), making this exhibition the right forum to create greater brand awareness for Somta Tools. It was encouraging to note that the SOMTA brand already seems reasonably well known in the Russian market, and the partnership with OSG Russia, as well as the Somta catalogue being available in Russian, are likely to provide further substantial growth opportunities.